I built an extension!
Today, I released a Twitch Extension that allows your viewers to see your stats right on your Twitch page! It shows a bunch of data about your runs, about your global stats and about your recent sessions. It is a great way for your viewers to engage even more to your stream!
How to install
Installing the extension is super easy. All you have to do is go to your Creator Dashboard on Twitch, find the Extensions menu item, and search for The Run. (Or just go here) From there you can install the extension. After installing, hit My extensions in the top menu and activate the extension. Add it to a Panel and your stream and you will be all good to go!

Because you use Twitch already to login to The Run, your data will automatically show up on your profile.
What can it do?
For now, there are three tabs on the extension. The first one shows basic data about all your runs. What is your PB? Sum of bests? How many attempts did you do and how many did you finish? All this data is readily available, grouped by game and then by category. Check it out here: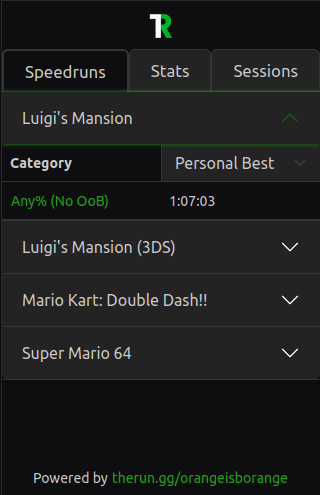 By clicking the column that says Personal Best, viewers can change that column to display a bunch of different statistics. This way all your stats fit into that tiny little 350px screen!
The second tab, Stats, show your global stats. How much time have you played lifetime? When were you last active? How many attempts did you finish in total? All this is filterable by game.
The last tab, Sessions, displays your recent speedrun sessions. This way, your viewers can always view when you last played, what you played and if you got any good runs!
What is next?
The extension is not finished yet and I will improve on it later. For example, exact data about your splits is not available yet. Viewers have to go to your The Run page to see this. That is good for me, but I can imagine it would be nicer to have all this data right there on your Twitch profile.

If you like the extension, please tell your favorite streamers to upload their runs to The Run and use the extension! It would mean a lot to me and I believe it really can make for a better viewing experience.
As for other The Run features, right now I am working on Community Sum of Bests/Best evers. This means every game/category will have leaderboards for every split, along with a theoretical best time. It will even include histories, so you can see how the best time for a split has progressed over time and who improved it the most! I think it is going to be very cool stuff.
After this project, I will start working on a LiveSplit Component that automatically sends your runs to The Run while you are running. This means never having to manually upload again and always having up to date data. The most important thing, however, is that The Run will be able to show your currently in progress run, along with a bunch of stats. This allows for almost limitless amounts of very neat stuff, but I will write about that later!
Thanks for reading and if you like The Run, please spread the word!